Brian in the Kitchen Recipes
BRIAN IN THE KITCHEN brought to you by Stittsworth Meats
September 23 2022
Smoked - Smoked Ginger Chicken with Cardamom, Cloves and Cinnamon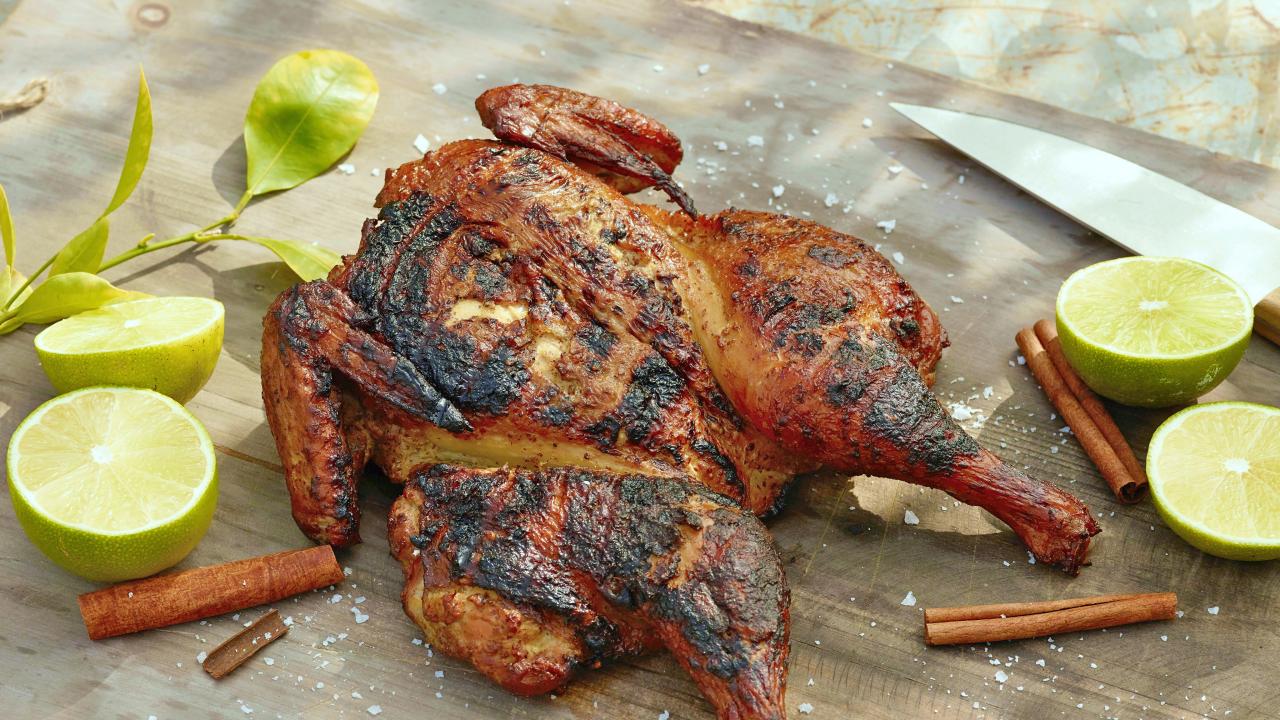 Image From foodnetwork.com
1 tablespoon whole cloves
10 cardamom pods
5 cinnamon sticks
2 tablespoons canola oil
4-inch piece fresh ginger, coarsely chopped
1 head garlic, cloves removed
1 teaspoon black mustard seeds
Kosher salt and freshly ground black pepper
Zest and juice of 1 lime
One 3-pound chicken, butterflied, keel bone removed

Combine the cloves, cardamom and cinnamon sticks in a bowl, cover with cold water and soak for at least 1 hour and up to 4 hours.

Heat the oil in a medium saute pan over medium heat. Add the ginger and garlic and cook until soft, about 2 minutes. Add the mustard seeds and cook for 30 seconds. Add 1/2 cup water, the lime zest and juice and some salt and pepper. Bring to a boil and cook for 1 minute. Transfer to a blender and blend until a smooth paste, adding more water if needed. Let cool.

Rub the paste over the entire chicken, including under the skin. Cover and marinate in the refrigerator for at least 1 hour and up to 4 hours. Remove the chicken from the refrigerator 30 minutes before grilling.

Light a chimney starter filled with hardwood charcoal and allow to burn until all the charcoal is covered with a layer of fine gray ash. Build a single-level fire by spreading the coals evenly over the bottom of the grill. Add the soaked spices evenly over the hot charcoal, put the lid on the grill and allow the grates to heat up and the smoke to fill the grill, about 5 minutes.

Place the chicken, skin-side down, over the coals and cook until the skin is nicely charred. Flip, move to indirect heat, cover the grill and cook at about 375 degrees until an instant-read thermometer inserted into the thigh registers 165 degrees F, 40 to 50 minutes.

Remove the chicken to a cutting board and let rest 10 minutes before carving.