Brian in the Kitchen Recipes
BRIAN IN THE KITCHEN brought to you by Stittsworth Meats
January 4 2021
Healthy Eating - Broiled Tilapia and Eggplant with Moroccan Pesto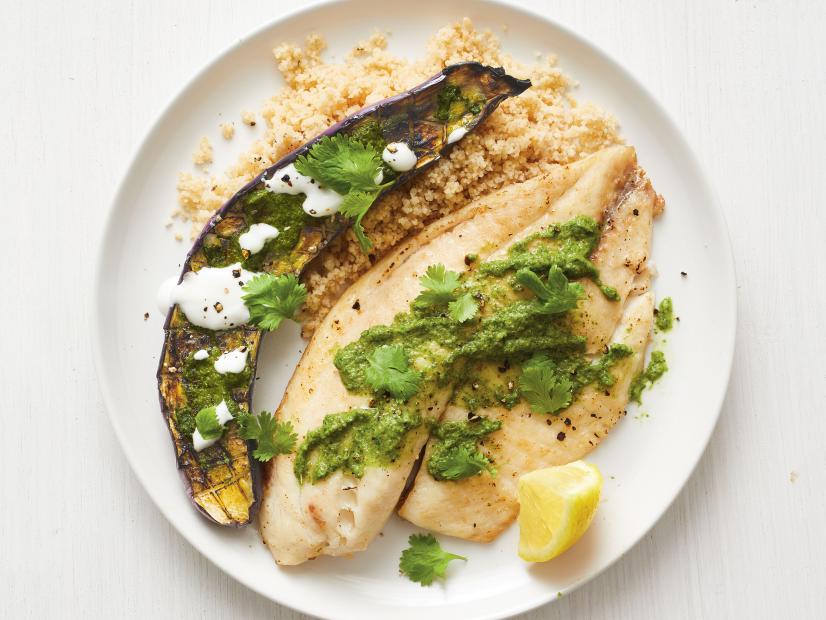 Image From foodnetwork.com
Kosher salt
1/2 cup whole-wheat couscous
1 clove garlic, smashed
1 cup packed fresh cilantro, plus more for topping
1/4 cup extra-virgin olive oil
Finely grated zest of 1/2 lemon, plus wedges for serving
1 1/2 teaspoons ground cumin
1 teaspoon ground coriander
1 teaspoon sweet paprika
2 Japanese eggplants (about 8 ounces each), halved lengthwise
Freshly ground pepper
4 tilapia fillets (6 to 8 ounces each)
1/4 cup nonfat Greek yogurt

Preheat the broiler. Bring 3/4 cup water and 1/2 teaspoon salt to a boil in a small saucepan. Put the couscous in a medium heatproof bowl and stir in the boiling water. Cover the bowl and set aside until the couscous is tender, about 5 minutes. Fluff with a fork.

Meanwhile, puree the garlic, cilantro, 3 tablespoons olive oil and 1/4 cup water in a blender. Pulse in the lemon zest, cumin, coriander, paprika and 1/4 teaspoon salt. Score the eggplant flesh in a 1/2-inch crosshatch pattern and place cut-side up on a foil-lined baking sheet. Brush with 2 tablespoons of the cilantro pesto and season with salt and pepper. Broil the eggplant, without turning, until browned and softened, 10 to 14 minutes.

Lay the tilapia on another foil-lined baking sheet. Brush with the remaining 1 tablespoon olive oil and season with salt and pepper. Broil until the fish is cooked through, 5 to 8 minutes. Brush each fillet with about 1 teaspoon pesto.

Divide the fish, couscous and eggplant among plates. Mix the yogurt with 1 tablespoon water and drizzle on the eggplant. Top the fish with the remaining pesto and more cilantro. Serve with lemon wedges.