Brian in the Kitchen Recipes
BRIAN IN THE KITCHEN brought to you by Stittsworth Meats
December 24 2020
Glazed Spiral-Cut Ham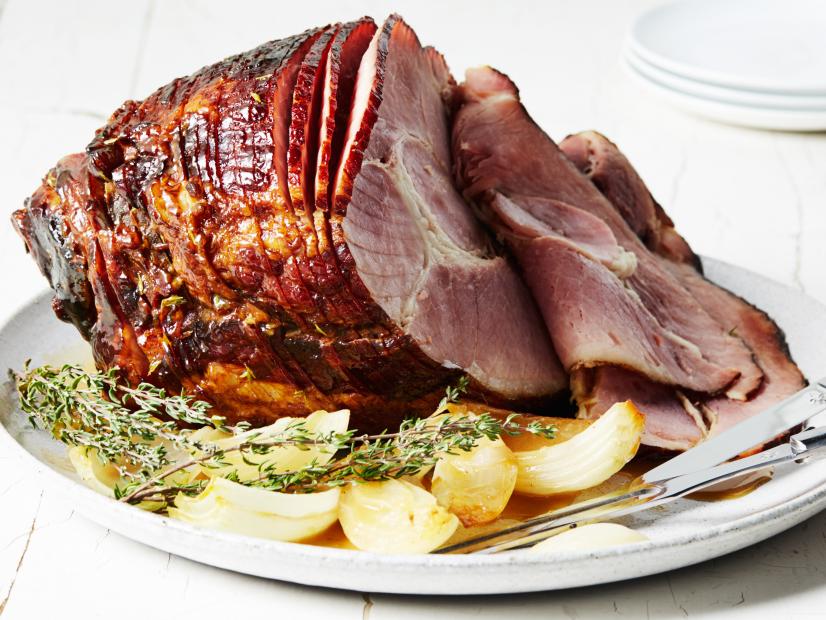 Image From foodnetwork.com
One 4- to 5-pound spiral-cut ham
1 large onion, quartered, root end intact
3/4 cup apricot preserves
3 tablespoons yellow mustard
2 teaspoons molasses
1/2 teaspoon Worcestershire sauce
1/4 teaspoon ground allspice
Pinch of ground cloves
8 sprigs fresh thyme, stripped
4 tablespoons cider vinegar
1 1/2 cups low-sodium chicken broth
1 tablespoon unsalted butter, at room temperature
1 tablespoon all-purpose flour
Kosher salt and freshly ground black pepper

Preheat the oven to 350 degrees F. Line a rimmed baking sheet or large roasting pan with foil.

Put the ham cut-side down on the foil and scatter the onion pieces around it. Cover the ham loosely with foil and bake for 30 minutes.

Meanwhile, whisk together the apricot preserves, mustard, molasses, Worcestershire, allspice, cloves, thyme leaves, 3 tablespoons of the vinegar and 1/4 cup water in a small saucepan. Cook, whisking, over medium heat until the preserves dissolve and the glaze is smooth, about 4 minutes.

After 30 minutes, remove the foil from the ham and continue to bake, brushing the ham with the glaze every 15 minutes until nicely glazed and heated through, about 1 hour more. Transfer the ham to a serving platter, tent with foil and set aside while making the sauce.

Pour the pan juices into a medium skillet. Add the broth and bring to a boil over high heat. Mix the butter and flour together in a small bowl until you form a paste. Whisk the paste into the pan juices and let the sauce simmer until thickened like gravy. Finish with the remaining 1 tablespoon vinegar and season with salt and pepper. Serve the ham with the sauce.