Brian in the Kitchen Recipes
BRIAN IN THE KITCHEN brought to you by Stittsworth Meats
December 22 2020
Classic Pork Crown Roast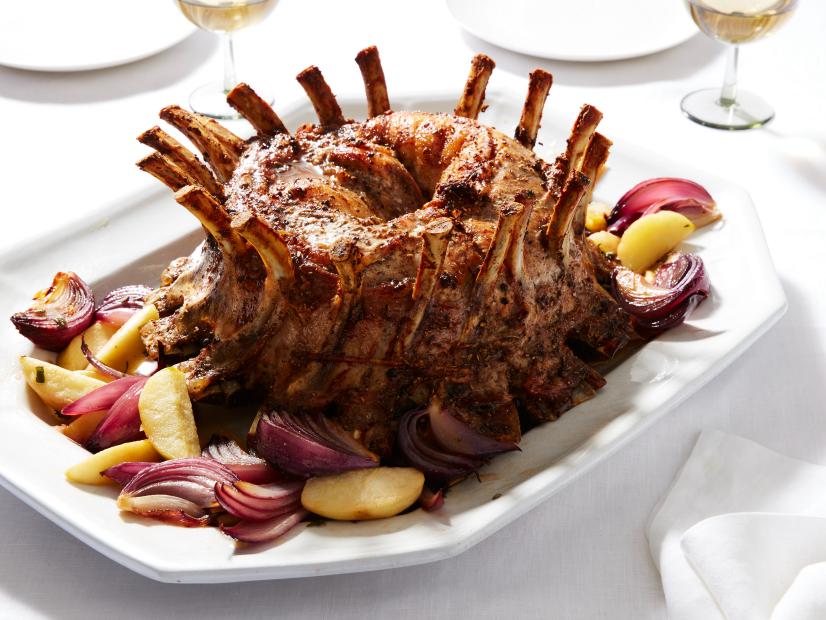 Image From foodnetwork.com
One 16- to 18-bone crown roast of pork (about 10 pounds) (see Cook's Note)
Kosher salt and freshly ground black pepper
2 teaspoons fennel seeds
1 teaspoon whole allspice
1 teaspoon whole black peppercorns
1/2 teaspoon juniper berries
1 small bay leaf
1/4 cup olive oil
1/2 cup granulated sugar
1 tablespoon chopped fresh sage
1 teaspoon fresh thyme leaves, chopped
6 Granny Smith apples, peeled, cored and cut into 8 wedges each
2 large red onions, peeled and cut into 8 wedges each
1 stick (8 tablespoons) unsalted butter, melted
1 cup dry white wine
2 cups apple cider

Put the pork on a rimmed baking sheet and sprinkle all over with 1 tablespoon salt and several grinds of pepper; set aside.

Put the fennel, allspice, whole peppercorns and juniper berries in a small skillet over medium heat and cook until the fennel begins to turn slightly golden, about 5 minutes.

Transfer the toasted spices to a blender, add the bay leaf and blend until coarsely ground. Add the olive oil and 1 tablespoon salt and process until a coarse paste forms, about 1 minute. Spread the paste over the pork, making sure to get it into all the nooks and crannies; use a spatula to scrape up all the paste from the blender. Cover the pork with plastic wrap and refrigerate at least 8 hours and up to 24 hours.

When ready to cook the pork, preheat the oven to 450 degrees F.

Put the pork on a rack set in a large roasting pan and cook for 20 minutes. Lower the oven temperature to 350 degrees F and continue to cook until an instant-read thermometer registers 135 degrees F, about another 1 1/2 hours.

Meanwhile, combine the sugar, sage, thyme, apples, onions and 6 tablespoons of the butter in a large bowl until well coated. Heat a large skillet over high heat until very hot, about 3 minutes. Add half of the apple and onion mixture and cook, stirring occasionally, until the apples and onions are dark golden all over but the apples are still firm, 2 to 3 minutes. Transfer to a rimmed baking sheet and spread into a single layer to cool, using a heatproof spatula to scrape all the remaining sugar from the skillet over the apples and onions. Repeat with the remaining apple and onion mixture.

Return the skillet to high heat and add the wine. Cook until syrupy and reduced to about 2 tablespoons, about 4 minutes. Add the cider and cook until thickened and glossy, about 8 minutes; you should have about 1/3 cup of glaze. Swirl in the remaining 2 tablespoons butter and set aside.

Once the pork reaches 135 degrees F, increase the oven temperature to 450 degrees F and brush the pork all over with half the glaze. Return to the oven and cook for 5 minutes. Brush with the remaining glaze and continue to cook until the internal temperature registers 145 degrees F, about another 5 minutes. Transfer to a serving platter and let rest for 30 minutes. Serve with the apples and onions.