Brian in the Kitchen Recipes
BRIAN IN THE KITCHEN brought to you by Stittsworth Meats
December 17 2020
Roasted Potatoes with Warm Blue Cheese Sauce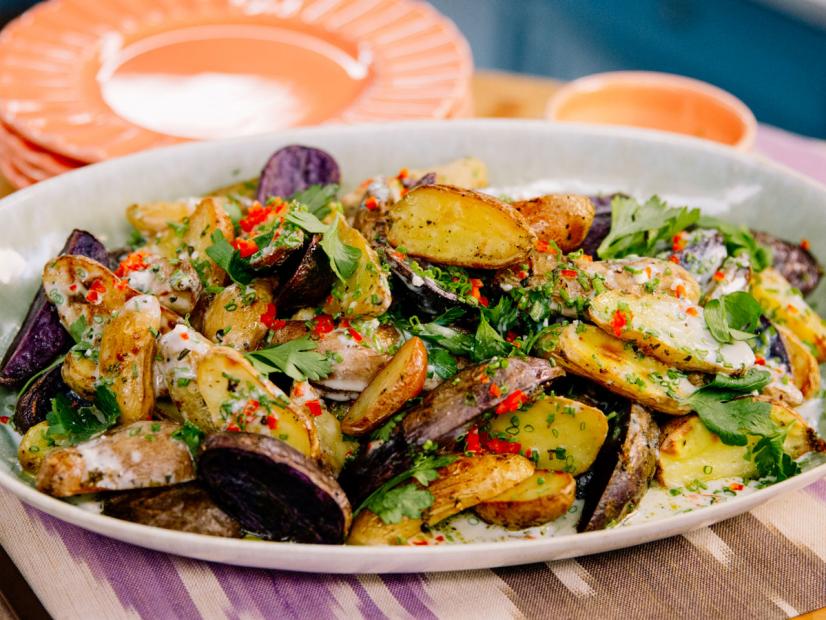 Image From foodnetwork.com
Potatoes:

2 pounds mixed baby potatoes, halved
1/2 cup extra-virgin olive oil
3 tablespoons finely chopped fresh rosemary
Zest and juice of 1 lemon
Kosher salt and freshly cracked black pepper

Blue Cheese Sauce:

3 tablespoons unsalted butter
3 tablespoons all-purpose flour
2 teaspoons finely chopped fresh rosemary
1/4 teaspoon grated nutmeg
2 cups milk, warmed
4 ounces blue cheese, broken into small pieces, plus extra for finishing
1/4 cup finely minced chives
1 Fresno chile, minced
1/2 bunch fresh parsley, torn

For the potatoes: Preheat the oven to 425 degrees F.

In a large bowl, toss the potatoes with the olive oil, rosemary, lemon zest and juice and some salt and pepper. Transfer to a baking sheet and roast until tender, about 35 minutes.

For the blue cheese sauce: While the potatoes are cooking, melt the butter in a medium saucepan over medium-high heat. Add the flour and cook, whisking constantly, until the flour begins to toast, about 3 minutes. Add the rosemary and nutmeg and cook, whisking, for 15 seconds more. Add the milk, bring to a simmer, reduce the heat to low and cook, stirring occasionally, until slightly thickened, about 5 minutes. Remove from the heat and whisk in the cheese and 2 tablespoons of the chives.

Transfer the potatoes to a large bowl. Top with the cheese sauce and garnish with the minced Fresno, torn parsley and remaining chives.

If you prefer, you can steep the rosemary and nutmeg in the warmed milk instead of adding them to the roux.