Brian in the Kitchen Recipes
BRIAN IN THE KITCHEN brought to you by Stittsworth Meats
September 11 2020
Leftovers - Cheesy Chicken Enchiladas with Red Sauce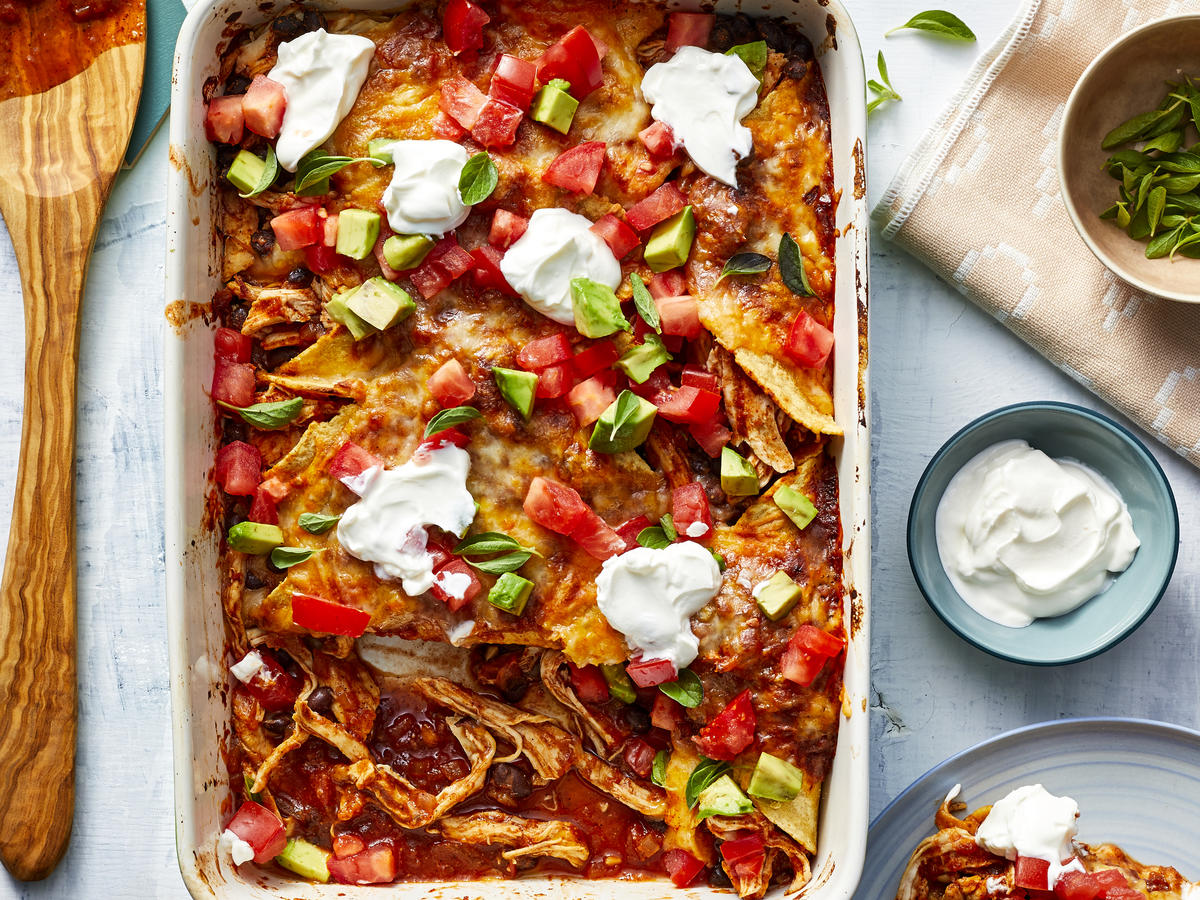 6 cups chicken broth
1 medium-size white onion, halved and divided (about 8-oz.)
6 oregano sprigs, divided
3 (6-oz.) boneless, skinless chicken breast, leftovers are best
1 (15-oz.) can crushed tomato sauce
1 Tbsp. ancho chile powder
1 Tbsp. minced garlic (about 3 garlic cloves)
1 Tbsp. all-purpose flour
2 tsp. ground cumin
1 tsp. kosher salt
1 (15-oz ) can black beans, rinsed and drained
12 (6-in.) yellow corn tortillas or use tostadas for some crunch
5 oz. pre-shredded Mexican 4-cheese blend (about 2 1/4 cups)
1 cup chopped plum tomatoes (about 3 tomatoes)
1 ripe avocado, chopped
6 Tbsp. sour cream

Preheat oven to 400°F. Combine broth, half of the onion, and 4 of the oregano sprigs in a medium saucepan over medium-high; bring to a boil.

Shred chicken (It's easier to do this when you cook the chicken rather than the next day for leftover night).

Finely chop remaining half onion (about 3/4 cup). Combine tomato sauce, chile powder, garlic, flour, cumin, salt, chopped onion, and reserved 2 cups cooking liquid in a medium saucepan over high; bring to a boil. Cook, stirring often, until thickened, 1 to 2 minutes. Reserve 2 cups of the tomato mixture. Add shredded chicken and beans to remaining tomato mixture in pan; toss to coat.

Spoon about 1/3 cup chicken mixture in center of each tortilla, and roll up. Arrange rolled tortillas, seam side down, in a 13- x 9-inch glass or ceramic baking dish coated with cooking spray. Evenly top with reserved 2 cups tomato mixture; sprinkle with cheese. Bake in preheated oven until cheese is melted and sauce is bubbly, about 20 minutes. Top with chopped tomatoes, avocado, and leaves from remaining 2 oregano sprigs (about 2 Tbsp.). Dollop with sour cream.