Brian in the Kitchen Recipes
BRIAN IN THE KITCHEN brought to you by Stittsworth Meats
August 11 2020
Cajun Boil on the Grill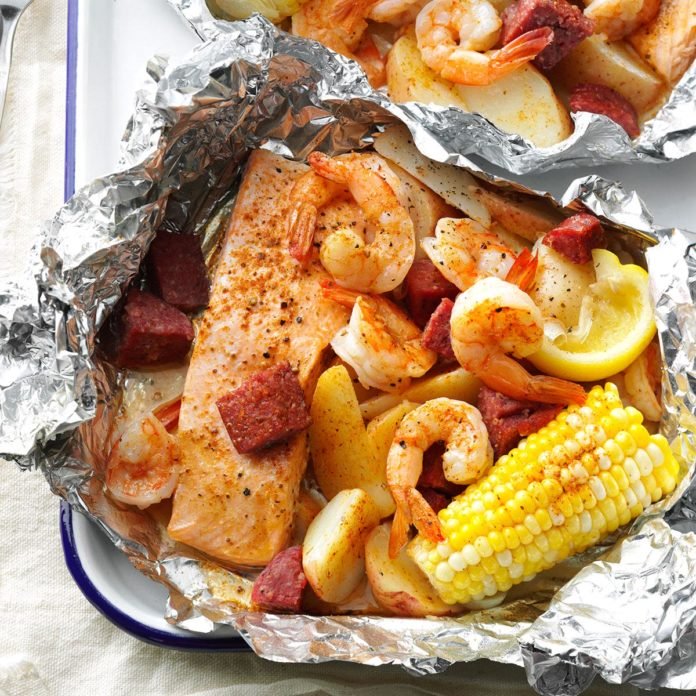 1 package (20 ounces) refrigerated red potato wedges
2 salmon fillets (6 ounces each), halved
3/4 pound uncooked shrimp (31-40 per pound), peeled and deveined
1/2 pound summer sausage, cubed
2 medium ears sweet corn, halved
2 tablespoons olive oil
1 teaspoon seafood seasoning
1/2 teaspoon salt
1/4 teaspoon pepper
1 medium lemon, cut into 4 wedges

Divide potatoes, salmon, shrimp, sausage and corn among four pieces of heavy-duty foil (about 18x12-in. rectangles). Drizzle with oil; sprinkle with seasonings. Squeeze lemon juice over top; place squeezed wedges in packets. Fold foil around mixture, sealing tightly.

Grill, covered, over medium heat 12-15 minutes or until fish just begins to flake easily with a fork, shrimp turn pink and potatoes are tender. Open foil carefully to allow steam to escape.